After my slow leak turned into a not so slow leak, I made the change to the darkside. I have an '03 VTX1800R, and it did not go as smooth as it will next time. I made a mistake on which caliper bolt to remove.
The correct bolt was hidden by the exhaust system. After an hour or so not being able to get the calipers out of the way, I found the correct bolt.
Still determined not to remove the stock exhaust pipes (since I didn't have replacement gaskets on hand), I unscrewed the bolt as far as I could, 1/12 of a revolution at a time (flip the wrench, turn a bit, repeat).
An hour later and still not enough clearance, I decided the pipes need to be removed if I was ever going to have any success... My guess is the prior owner didn't know that Honda's are metric... and rounded the heads on the two lower bolts
(I now have lots of extras, thank you Amazon prime
). Vise Grips 1/4 of a turn at a time.
Next time, I think I will only have to remove these two, and pull the pipes open enough to get the clearance.
Wheel off, time to find someone to dismount the old tire and put the new on...
Local national chain tire stores did not have the correct equipment to mount motorcycle tires (nice excuse guys
) Call the local HD stealer, after explaining why I wanted to do this, that I live on a gravel road, and I am tire of tearing up motorcycle tires, they said "sure come on down, we can do it..." Got there dropped the wheel and tire off, as they were "backuped up and would do it later in the day, you know work it in"... Two and a half hours later I get a call from them... (I think yippee it's done... wrong... Service manager found out, and nixed it.
Close to closing time, and I was worried I would end up waiting a couple of extra days to get it installed... I called a local customizing shop... again I explained why I wanted this done, and they said they would do it.
They told me it would take an hour, and not to stick around... now a little bit worried, I did comply... turns out they did the dismounting and mounting by hand. Great job too!
I asked them about it, and they said the worst of it was removing the old tire. the Nexen N5000 beaded up at 15psi. I am now breaking it in, or is it breaking me in...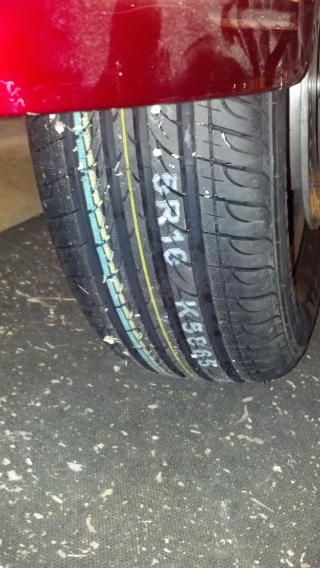 Nexen N5000 205/65R16
(If I measured correctly it is 190 wide.)

tlarson




Number of posts

: 6


Location

: Poulsbo, WA


Registration date :

2012-05-27



CONGRATS.....get a couple hundred miles on it to get in tune with it then try and wear that little piece of rubber out...... 32,000 miles and counting........ESKIMO

ESKIMO




Number of posts

: 56


Location

: DENHAM SPRINGS, LA


Registration date :

2008-09-25



did you say the tire seated at 15 pounds? and the worse was getting the stock tire off? I took my tire and rim to a mom and pop flat tire repair shop and for 15 bucks they did it by hand in 5 minutes like he has done it a thousand times, but to my supries he said it was a first but to get the tire to seat now that was a while, I kept telling the the guy who spoke no english to go up to 100 pounds but just had a hard time understanding I think he kept thinking I was telling him it would blow up at 100 pounds. I live in El Paso so there are many tire shops to get-er-done here just need to speak spanish. on the bolt on the rear disc brake usually it will not have to come all the way out to remove the brake. now my big question will you go back to motorcycle tire???? I know That I will not Love my 205/60-15 on a x1800 R

speedman




Number of posts

: 5


Location

: el paso tx


Registration date :

2012-07-09



Congrats!!!!!!! Welcome to the wonderful world of the darkside!
.....................bobby
_________________
In Christ Service..............bobby
aka....Senior Vader...(giving to me by my friends)
http://www.hickmachine.com/ I got the CTR and love it!
VTXDS # 5

twin1300

Admin





Number of posts

: 4689


Age

: 58


Location

: Denham Springs, La.


Registration date :

2007-12-14




---
Permissions in this forum:
You
cannot
reply to topics in this forum